http://ekibenbaltimore.com
Co-owners Ephrem Abebe, Steve Chu, and Nick Yesupriya met while volunteering with Habitat for Humanity during undergrad at UMBC, and instantly bonded over their mutual love of food.
"We used to have these things called 'cook nights,'" Yesupriya says. "Throughout the second half of college, we'd all come together a couple of nights per month and cook for our friends. UMBC is such a diverse school, so it was a great place to experiment like that."
The Ekiben concept dates back to 2014, when Chu, a seasoned chef who previously worked at Petit Louis, pitched the Asian-fusion idea. After a few months of testing flavors in the kitchen, the guys were ready for a summer launch at the Fells Point Farmers' Market.
"That first season was a great learning experience for us," Yesupriya says. "We were still testing the waters and perfecting the recipes, but the Fells Point community really gathered behind us. The food seemed to resonate with a lot of folks in the area, and their opinions formed the menu. If people liked it, we kept it."
Yesupriya says that in searching for a permanent home, it only felt right to settle in the neighborhood that had supported the business from the beginning.
While the new shop will emphasize Ekiben's signature steamed buns and rice bowls filled with slow-cooked fillings (think braised pork, Thai chicken meatballs, and Japanese tofu), it will also debut new recipes like pork spare ribs, Taiwanese fried chicken, and specialty tater tots.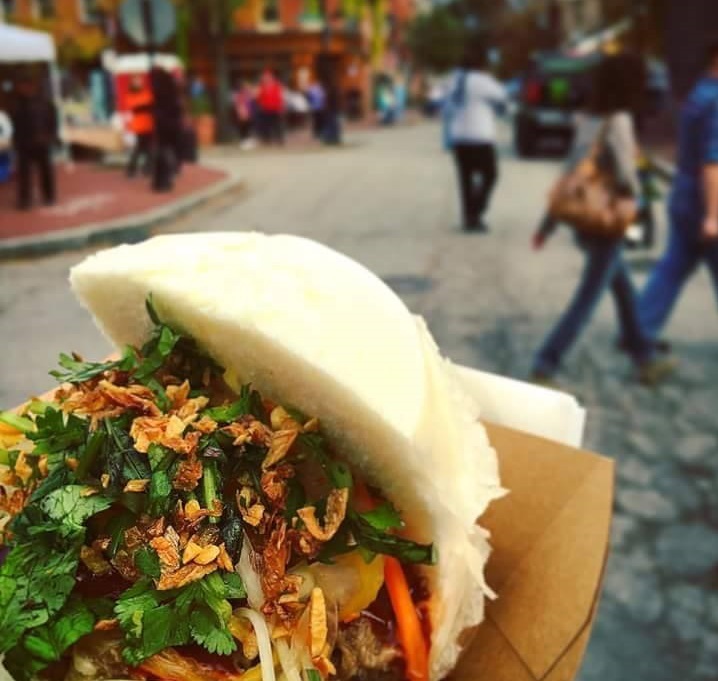 "We'll have our regular menu that won't change much, but also a special menu based off of whatever we feel like cooking that day," Yesupriya says. "We want to take advantage of the opportunity to experiment, so if we want to do a ramen or a fish dish one day, we can."
Although details about the interior of the cozy, 10-seat shop are still being solidified, the owners know that they want it to feel like a community hub. In keeping with this idea, the space will have a wall showcasing information about local artists, events, and nonprofits.
Looking ahead, Yesupriya says that Ekiben will continue its farmers' market presence even after unveiling its new digs, and that he's excited for it become an even bigger part of the tight-knit local dining scene.
"Our food is an expression of ourselves," he says. "It's made out of love, and people can taste that."